Eric called to say good night. He sounded tired
and like work had burned him completely to the ground.
"No boo-hooing tonight, Amy Lynn," he warned,
"I'm here, just doing my thing, and nothing has changed.
I love you, I miss you, you are still my girl, so there.
Now go to bed. We both have an early morning."
"What?!" I whined. "That's it?! Honey, you're making me pout!"
"If you want to pout, I'll give you something to pout about," he said.
I started laughing. I started laughing so hard that it turned into tears.
"If you want to cry, I'll give you something to cry about," he responded playfully.
Eric had told me years ago those were lines his mother had used when he was growing up.
"If you were here right now," I threatened,
"I'd throw all of your pillows on the floor and make you pay attention to me!"
(Thank you for that idea, Jan.)
My age does not matter.
Sometimes it just feels down right good to throw a fit
and Eric caught onto my vibe without a hitch.
"Young lady! If I were there right now, you'd be getting your ass lit up
while you picked up every one of those pillows."
My darling husband was suddenly awake and full of creative scenarios.
We watched a few naughty videos together
and fantasized about new things to try when he gets home.
We talked way too long and then I reluctantly let him go,
with direct orders for me to get some sleep.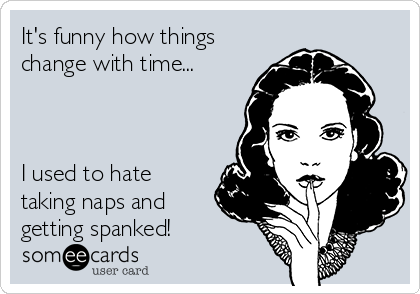 I can't sleep now!
My head is swimming
with the promise of delicious fun to come.